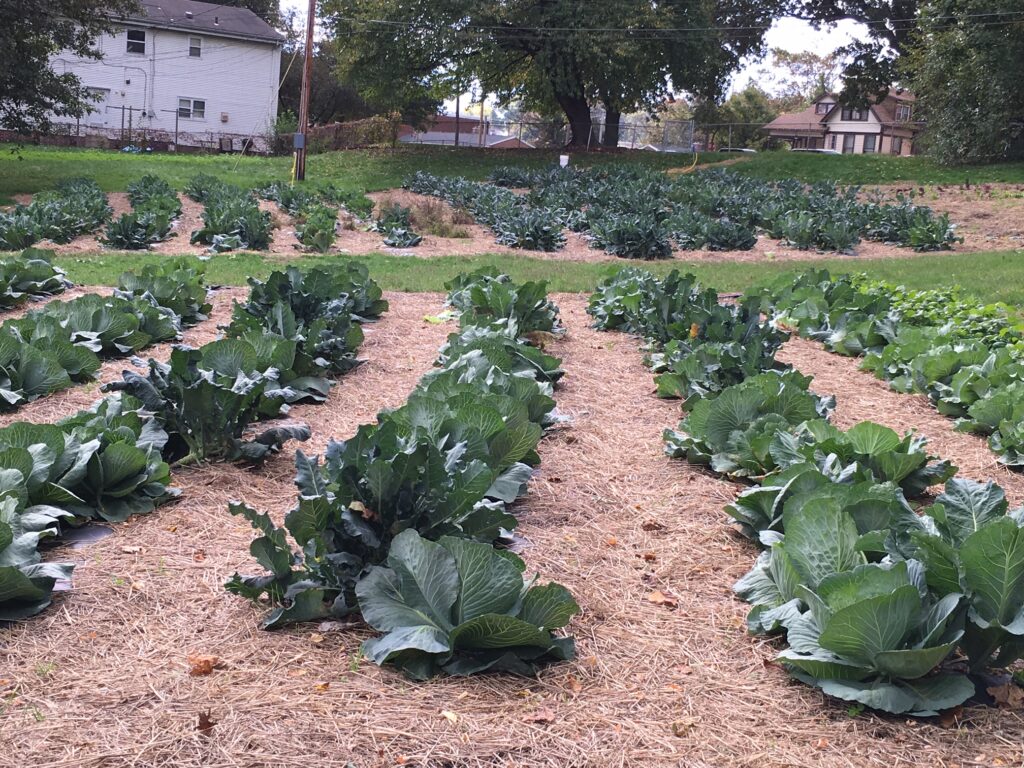 York Fresh Food Farms is the City of York's first urban. 
York Fresh Food Farms is a 501(c)(3), nonprofit organization that was created to reduce hunger in York County, Pennsylvania, by growing and distributing nutritious food for those in need. The project started in 2014 as an initiative of the York County Food Alliance to increase access to fresh local food. York Fresh Food Farms' mission is to increase safe, healthy food choices to build a healthier community and, through sustainable, organic farming, to operate a community demonstration farm as a resource for the City of York.
2018 will be York Fresh Food Farms' third growing season. York Fresh Food Farms is farming on 4+ acres at 2 locations in the City of York: at 150 Willis Road (provided to York Fresh Food Farms by The Housing Authority of the City of York) and behind the offices of TruNorth Wellness Services at 1195 Roosevelt Avenue. The Willis Road farm site is located within the Housing Authority's 266-unit Parkway Homes development. The TruNorth site is located one mile (about a 3 minute drive) from 150 Willis Road.
In 2018 York Fresh Food Farms will fully scale up York Fresh Food Farms' farming operation using all the additional acreage at 1195 Roosevelt Avenue, having full growing season (May to November) and succession planting (growing one crop after another to get 2 or 3 harvests from the same land). York Fresh Food Farms is expanding its production further with two 12' x 16' donated greenhouses (one heated) for growing transplants from seed and a 2,500 square foot high tunnel (an unheated plastic greenhouse purchased with a grant from USDA NRCS) that will enable York Fresh Food Farms to grow vegetables all year round. The Farm Manager's goal is 12 tons of vegetables in 2018. This year, York Fresh Food Farms will launch its Mobile Produce Market operation on June 1.
York Fresh Food Farms' production agriculture follows organic methods using plastic mulch, (straw mulch for some crops), drip-line irrigation and fertigation (applying dissolved fertilizer with irrigation) to reduce water usage, prevent erosion and increase yield. Farm Manager Bruce Manns oversees and directs the farming operations with the help of one or more part time, seasonal workers. Volunteers also help with farm work and administration.
York Fresh Food Farms donates part of its harvest to a variety of York City feeding programs, food pantries, health clinics and nutrition programs including: Family First Health, Catholic Harvest Food Pantry, LifePath Christian Ministries, York Penn State Extension's Nutrition Links program, Diabetes Day at the WellSpan Community Health Center, Katallasso Family Health Center and the Northeast Neighborhood Association Food Pantry.
Pop-up farmers markets, held over 10 weeks in August, September and October of 2017 and co-hosted with 12 different organizations at a variety of locations in the City of York, have helped York Fresh Food Farms prepare and plan for the 2018 Mobile Produce Market operation by identifying market partners, finding locations for market stops that will serve underserved York City neighborhoods and learning what vegetables, and information about vegetables, customers need and want.
York Fresh Food Farms Mobile Produce Market operation – a shuttle bus customized into a farm-stand-on-wheels – will start on June 1. The Mobile Produce Market will follow a regular schedule with stops throughout York City to bring affordable, farm-fresh produce to underserved and food insecure neighborhoods and to York City residents with limited transportation. The Mobile Produce Market is the key to achieving York Fresh Food Farms' goal to provide high quality produce to underserved York City residents, address food access inequities, spread the word about nutritious, good tasting fruits and vegetables and eating healthy and increase the consumption of fruits and vegetables in the City of York. Look for our mobile market bus!