FROM THE GROUND
Farm Friends! How is everybody doing in this humid summer heat? As our staff member Emily likes to describe it, this Pea Soup weather and its extra moisture is loved by plants but let me tell you we have been sweatin'. We have been harvesting cucumbers in the high tunnel for a few weeks now and will soon have peppers and tomatoes ready to come off the vine! Our crops are growing well, some of our Spring greens bolting as they do and Farmer Bruce is doing his best to keep up with hungry pests, but overall we are bringing beautiful bounties to the market. We have all the ingredients you need for that perfect summer salad and this week we partnered with HorseShoe Ranch PA to offer their Pasture-Raised Chicken for Home Delivery. Go to bit.ly/orderfresh621 to place your order by tonight! We are continuing to offer Home Delivery to the following areas: York City, East York, North York, West York, Villa Green & Grantley.
RECIPE OF THE WEEK
We have collaborated with June Wise of Wise Sauces to create all of the recipes you will receive this season! This week, we are featuring Mashed Turnips & you have to give them a try!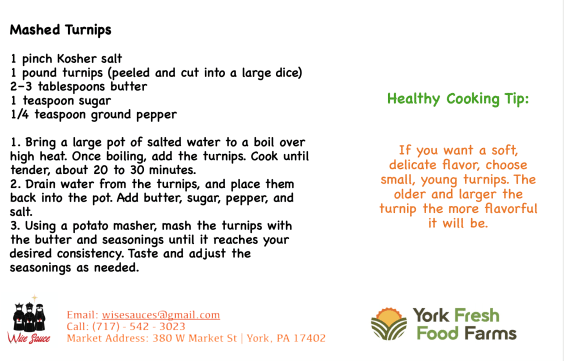 Watch York Fresh Food Farms Short Film – Our Story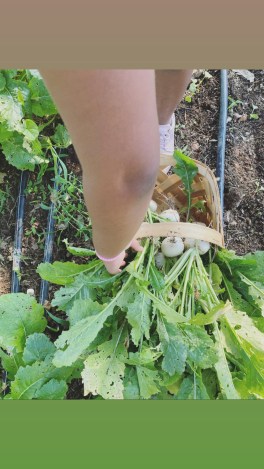 ON THE STREET
We are in our second week of the Mobile Produce Market and continue to be encouraged by positive customers. The markets have been a little slow, primarily our new stops, & we are hoping for more neighbors to come out as they see us on the street. June Wise of Wise Sauces joined us this week to offer cooking demonstration and tastings, accompanied by our recipe cards and her wealth of knowledge on cooking delicious, healthy foods for your family. We hope to encourage families to try new ways of cooking, eating, and sharing together. Our Home Delivery option is still available and you are welcome to sign up with the button below! The following is a link to this week's order form and we have partnered with HorseShoe Ranch PA to offer their pasture raised Whole Chickens @ $18/Chicken (~4 lb (delivery only)! Please consider supporting your urban and local farmers this week.