York Fresh Food Farms works closely with many York, PA organizations and businesses to build awareness of healthy food choices in the community, create opportunities to take action and increase access to healthy food. In addition to the partners that host Mobile Produce Market stops, we work with the York County Food Alliance, Penn State York Extension's Nutrition Links Program (SNAP-Ed), York County Food Bank, Central Pennsylvania Food Bank, local food pantries, the School District of the City of York, the City of York – Bureau of Health, Community Progress Council and its WIC Program, Penn State York Extension's Master Gardeners, WellSpan Health, UPMC Memorial Hospital, and many York County farmers and orchardists that supply fruit, vegetables and other farm products to supplement what is grown on our Farm.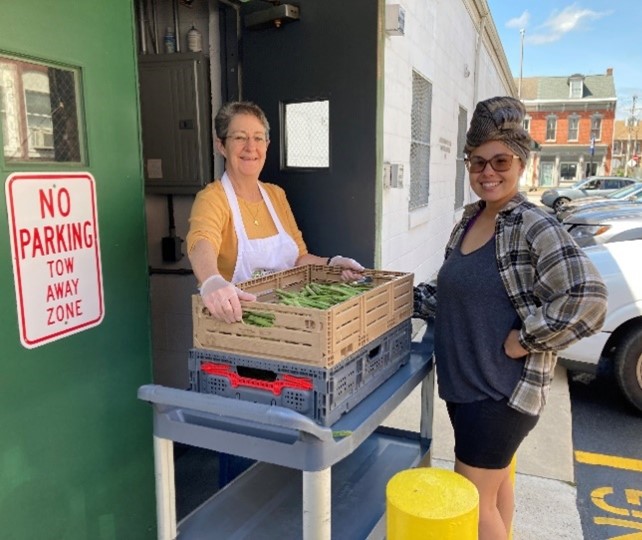 The 2023 Mobile Produce Market Stops include:
Community Progress Council's WIC Office. 130 W. Market St., York, PA
WIC, the supplemental food program for Women, Infants & Children, provides nutrition education, health screenings, chest/breastfeeding support, and FMNP checks to WIC participants to use at the Mobile Produce Market that sets up once a week in front of CPC's WIC office.
Wellington Homes. 714 E. King St., York, PA
The Housing Authority of the City of York's Wellington Homes Development, is a 72 unit rental housing development.
Parkway Farm Stand. Willis Rd at Parkway Blvd, York, PA
Parkway Homes is another Housing Authority rental housing development with 266 dwellings on a 65-acre site. Y3F's urban farm headquarters at 150 Willis Road is located in the Parkway Homes development.
Lee's Food Market. 564 N. Pershing Ave., York, PA
Located just adjacent to Parkway Homes, Lee's Food Market is the closest and principal convenience store for Parkway Homes residents.
J&J Food Mart. 250 W. Maple St., York, PA
Is a busy convenience store in York City's southwest neighborhood.
White Rose Senior Center. 27 S. Broad St., York, PA
The White Rose Senior Center (WRSC) serves a congregate meal to about 120 seniors every weekday. WRSC is a diverse, inclusive, and bilingual (English and Spanish) community. Most WRSC members qualify for FMNP checks. rabbitransit provides door-to-door transportation for people 65 or older to attend WRSC free of charge.
Hannah Penn K-8 School. 415 Boundary Ave., York, PA
Community Progress Council (CPC) operates 2 programs for York residents at Hannah Penn. Community of Hope is a comprehensive program that helps residents of the Hannah Penn K-8 neighborhood get connected to the resources and support they need; the program bridges gaps to promote positive changes in families. In addition, CPC operates a WIC clinic to serve the residents of the Hannah Penn neighborhood.
York Towne House. 200 N. Duke St., York, PA
York Towne House is a senior high rise apartment building in downtown York.
rabbittransit Downtown Transfer Center. 213 W. King St., York, PA
rabbittransit is York County, PA's transit authority advancing affordable mobility solutions

that allow all Central Pennsylvania's residents to connect to their basic needs. rabbittransit has been a MPM market stop since 2018, and rabbittransit shares Y3F's focus on the health. Under its Medical Assistance Transportation Program rabbittransit provides free transportation to medical appointments; the Senior Shared Ride Program provides trips to medical appointments; and rabbittransit provides special services for riders with disabilities.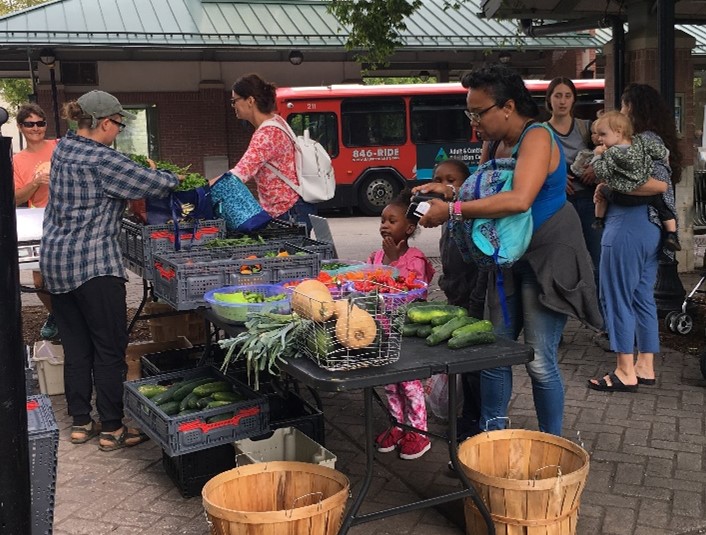 Mobile Produce Market at rabbittransit
York YMCA. 90 N. Newberry St., York, PA
Besides the usual gym, exercise and activities, the York YMCA runs a food program that distributes nutritious prepared meals to children throughout York City, offers financial assistance for its programs and memberships, helps homeless men, has built affordable housing, and provides community services and safety initiatives in the York City neighborhoods adjacent to its Newberry Street facility.