FROM THE GROUND
We are so thankful for the recent and continuing sunshine and warm temperatures, heating the soil and allowing the necessary processes of photosynthesis to promote growth! Our plants are certainly increasing in foliage and biomass and are looking fuller and healthier by the day. Recent farm activity has looked like clipping and suckering our high tunnel crops – tomatoes, cucumbers, & bell peppers – to ensure highest quality of future harvests, spreading straw over all open soil to promote soil temperature and moisture retention and microbial activity, keeping up with weed pressure, and continuing to plant a diversity of crops to keep our markets robust and colorful.
A few recent plantings involved the following varieties:
Red Russian Kale
Sweet Peppers including Jimmy Nardello, Banana, Mad Hatter & Trinidadian Perfume
Recao/Culantro
Fall Squash including Blue Hubbard, Spaghetti, Acorn, & Delicata
We can't wait to fill your plate with fresh, organically grown produce from your local urban farm in the lovely City of York; keep reading for an opportunity for ordering some fresh goods for Home Delivery this Friday!
RECIPE OF THE WEEK
We have lots of fresh herbs growing on the farm, oregano and thyme are particularly in abundance and both you can order for Home Delivery this week! (peep the order form linked below). Here is a yummy simple recipe to incorporate (York Fresh Food Farms) Thyme into one of your weekend meals!
Oven-Roasted Potatoes with Thyme
Ingredients:
2 pounds baby Yukon Gold potatoes, scrubbed and halved lengthwise
2 tablespoons olive oil
1/2 teaspoon coarse kosher salt 1/2 teaspoon freshly ground black pepper
2 tablespoons minced fresh thyme
1/2 tablespoon butter
How to Make It: Preheat oven to 400°. Bring a large pot of water to a boil over high heat and add potatoes. Boil potatoes until barely tender when pricked with a fork, about 5 minutes, then drain them completely and spread in a single layer on a large rimmed baking sheet. Add carrots, drizzle vegetables with olive oil, season generously with salt and pepper, and gently toss to coat evenly. Bake, stirring occasionally, until potatoes are golden brown, about 20 minutes.Transfer vegetables to a large bowl and add thyme and butter; gently toss to coat evenly. Serve warm or at room temperature. Enjoy!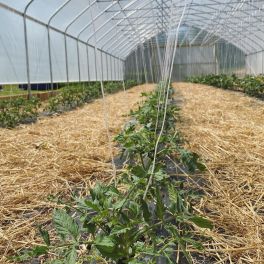 ON THE STREET
Well folks, our Second Vegetable Vehicle left the shop this week and is ready to cruise around town! We hope to get refrigeration installed into both vehicles so we can keep our produce as fresh as possible with the number of markets we will be hosting this season. This may look like more of a make-shift unit, utilizing the van's AC unit to keep an insulated partition cool in the heat of summer or we may utilize funding to fit both vehicles with more commercial refrigeration units. Either option will increase our operational efficiency and help provide the best product to our neighbors in York City.
As we mentioned earlier, we are offering our first Home Delivery Order of the season, providing you access to some late Spring goods for your plate & belly. Ordering is open until this evening, deliveries will be made this Friday between 11-3. Go to the following linke to place an order: bit.ly/orderform529. To get weekly access to order forms, go to the button above and sign up for York Fresh List! Deliveries are available for the following areas:
York City
West York
North York
East York
Villa Green
Grantley
We anticipate a season full of goodness, freshness, and urban love. We appreciate your continued support as friends, neighbors, customers, & sharers of our mission!

**************************************************************************
We hope to see you at our Mobile Produce Market Launch Friday, June 12th @ the rabbittransit Transfer Center!